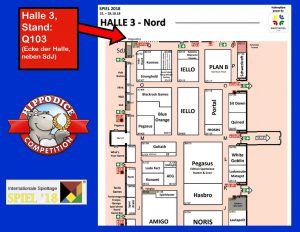 Also this year the Hippodice presents the Hippodice game designer competition on the Internationale Spieltage SPIEL in Essen.
The SPIEL2018 will take place from 25.-28. October 2018.
We have info material with the results of the completed competition 2018, and we are happy to answer any questions about the next competitions.
In addition, various game designers are guests at our booth (3, Q103)!
Thursday
12:00 – 14:00 Thomas Weber
14:00 – 15:30 Fabio Lopiano
Friday
10:00 – 14:00 Carsten Lauber
14:30 – 18:30 Mathias Wegener
Saturday
10:00 – 14:00 Florian & Helmut Ortlepp
14:30 – 18:30 Michael Loth
Sunday
12:00 – 14:00 Stefan Wenz
14:00 – 16:00 Thomas Spitzer